A few of the readers of 2011 Pro Golf Synopsis asked me the best players at certain parts of the game over the years. Here's a list of some lesser known players for certain aspects of the game that I think are some of the very best on Tour. Otherwise, a lot of this would go to Luke Donald
Anyway, if you're at a Tour event or can catch these players practicing, I would recommend getting the camera to see greatness in action.
SHORT GAME PLAY - Chris Riley
Over the past 5 years the best Short Game play has belonged to either Briny Baird or Chris Riley, both of whom routinely finish in the top-5 in my Short Game play metric. However, Baird had an 'off year' for him, finishing 21st in Short Game play in 2011. Riley consistently ranks near the top.
3-WOOD PLAY - George McNeill
McNeill led the Tour in 2011 in shots from 250-275 yards. McNeill's overall metrics were not all that great in 2011. However, I believe his ability with the 3-wood probably helped him keep his card as he could use that to chew up par-5's and play par-4's where driver off the tee is not feasible well. Take a look at this amazing video of Gary Woodland.
Funny to hear the announcers say that the only other person to reach this green in two shots was...George McNeill.
PUTTING - Greg Chalmers
Last year, Chalmers commented on how he may not be a great ballstriker, but he was one of the world's best putters and he was right. In the last 3 years he has finished 8th, 5th and 5th in the Putts Gained metric. It's a good thing because he's a short hitter and doesn't strike the ball all that accurately. But, get him on the green and he becomes one of the greatest players in the world.
BIRDIE ZONE PLAY - Shane Bertsch
One of the things I have discovered is that Birdie Zone players (75-125 yards) on Tour tend to be very consistent. Meaning, if you're a great Birdie Zone player on Tour one year, you will probably be one of the better Birdie Zone players year-after-year. And somebody like John Senden (184th from the Birdie Zone) likely will never do that well in this Zone.
Over time though, Shane Bertsch is continually a top-5 player from this range.
SAFE ZONE PLAY - Alex Cejka
Cejka routinely finishes in the top-10 in shots from the Safe Zone (125-175 yards). He's not very long, but a very underrated ballstriker on Tour.
DANGER ZONE PLAY - Jason Bohn
Bohn is another underappreciated ballstriker on Tour and typically finishes very strong in the Danger Zone. In fact, his ballstriking metrics in 2009 were better than Tiger Woods and Sergio Garcia. Not many videos of Bohn's swing on YouTube, which is a shame.
ADVANCED TOTAL DRIVING - Charles Warren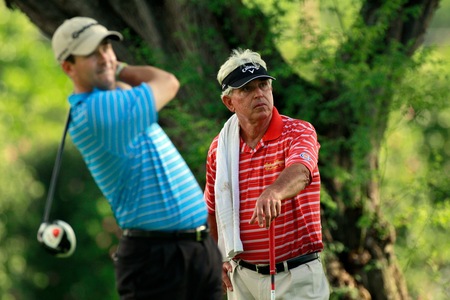 I'm starting to believe that Charles Warren is some type of mythical figure whose golf swing does not actually exist. On YouTube, there's a video of him for EyeLine Golf discussing putting...although he's a terrible putter. Oh, there's also a video of him at a golf clinic talking about protecting your skin against the sun.
Well, there is this video...of Kyle Stanley...that relates to Warren's driving of the ball.
Warren is typically in the top-5 in my Advanced Total Driving metric. He does everything well with the driver. He hits it long, generaters a lot of clubhead speed (117 mph), he launches it nicely, has perfect amount of spin rate, hits fairways and doesn't miss too many drives 'off the grid.'
Yet, not one video of his swing on YouTube. Maybe he's the Sidd Finch of golf.
3JACK