On Sunday, Kyle Stanley had a lead of 3 strokes going into #18 at Torrey Pines.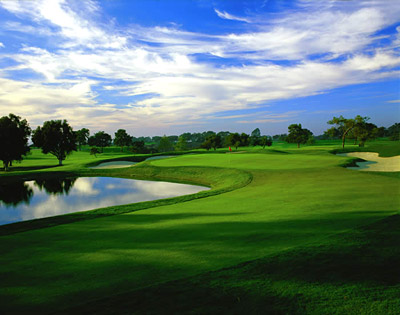 #18 is a reachable par-5 with water short and left of the green, some bunkers right. The green actually slopes quite a bit towards the water.
Stanley hit a nice driver and left himself with 241 yards into the green from a good lie in the rough. He had 2 options:
1) Utilize the traditional golf strategy of 'laying up because you have the tournament won' and then putting it on the green and 2-putt for par and win the tournament.
or
2) Utilize 3Jack Golf's 'Metric Based Golf Strategy' which recommends that you go for the green in 2 shots unless you simply do not 'have the shot' to get there.
Stanley chose #1. Even announcer David Feherty stated to the effect that 'if he doesn't lay up here, I will have to cross check him.'
Stanley then:
- laid up nicely with an iron into the fairway.
- Hit a shot that landed about 10 feet past the pin and spun back into the water.
- Dropped into the 1st cut of rough to take the spin off.
- Hit one onto the green, about 30 feet away and downhill.
- 3 putted
He then proceeded to lose in a playoff against Brandt Snedeker.
Of course, people will label this as a 'choke.' In fact, that's what the YouTube member who posted the video said.
However, I contend that Kyle Stanley did NOT choke. Instead, he used an ill-conceived strategy that put him in a position to possibly choke.
Hey, nobody wants to be the next Jean Van de Velde:
However, there are extremely different circumstances here. Van de Velde is playing a tough par-4 and had to hit a tough tee shot while Stanley is playing a relatively easy par-5 and already hit a good tee shot (yes, Van de Velde's decision was stupid in epic proportions).
Stanley's situation was something I wrote about in 2011 Pro Golf Synopsis.
Essentially, there is an extremely high correlation to par-5 'Go For It' percentage and par-5 scoring average. Laying up so you 'have a full wedge into the green' is actually putting that AGAINST you on average compared to if you can go for it and get it closer to the green.
Part of what this amounts to is by laying up, Stanley actually increased his 'expected score' instead of 'lowering his expected score.' Obviously, nobody thought that he would hit it into the drink (and he did get screwed). However, because his expected score raised and he needed to make double bogey to win, he actually increased his chances of making a triple bogey.
The other part is this...
Had Stanley gone for it in 2 shots and hit it into the water, he could have dropped into the 1st cut of rough. Then knocked it on the green and 3-putt like he did...EXCEPT, he would have made a 7 and would have won the tournament. And they would have never said 'choke.'
3JACK