Wednesday is the first official day of the PGA Merchandise Show which is held at the Orange County Convention Center. IIRC, the OCCC is the largest convention center in the world. When I lived in Atlanta, the big convention center there was the Georgia World Congress Center and the OCCC is legitimately about 4 times the size of the GWCC. The PGA Show is enormous, but still only takes up about 1/4 of the OCCC.
Tuesday is more about personal enjoyment of getting to hit the latest equipment on the range. Wednesday is more about meeting old friends that you have not seen since the last PGA Show or even longer than that. It's also much more organized and the exhibitors have better representation at their booths so you can better understand the product and have your questions answered.
Outside of putters, there was not much in the way of new and innovative equipment designs. Instead, this year's show was about computerized technology and it's a explosively growing business. This show had by far the most launch monitor devices, 3D motion capture and shot tracking software I have ever seen.
Personally, I like the shift because the latest driver is not likely to improve your score. And it's not likely to improve it nearly as much as actually improving your techniques. The only problem I see with all of this technology is that better golf goes even beyond the improvements in technique.
I see golf instruction (or any form of teaching) as a people business, first and foremost. A teacher has to be able to read students and understand what works for them and what doesn't. They have to be able to sense when a student doesn't understand something even if they are telling you that they understand what they say. And they have to be able to sense when the light bulb goes on as well as find ways to make the game fun and interesting so they will continue to play and practice and progress with their game. Launch monitors, 3D motion capture and shot tracking software does not provide that for golf instructors.
There are other potential problems with the technology, but that is the big one and it cannot be emphasized enough. Legitimate golf improvement and quality golf instruction is not a paint-by-numbers approach.
With that said, the product that piqued my interest the most was the Ikkos.com
Ikkos is a virtual reality learning system to help accelerate learning movements and motions. The system hooks right up to your smart phone and it consists of the user strapping a headgear that looks like the same type of headgear you would have at a 3D movie theater. The user will play any video they want. For instance, let's say you want to use this video to emulate Dustin Johnson's golf swing:
You would simply have this video sent to the Ikkos app and put it in the head gear and the app will play this on a loop about 30 times in slow motion. The user will also have to use their ear buds which play binaural beats which is a sound that helps calm the brain and focus on the video.
After watching the video on loop 30 times, the user should then grab a club and put on their blacked out goggles. Visualize the video they just saw while swinging the club in slow motion.
According to Ikkos, the process is tricking your brain into thinking that you are making Dustin Johnson's swing motion and not Dustin Johnson.
Ikkos was founded by swimming coach Sean Hutchinson in order to get his swimmers to improve their techniques. He could not understand why students could not incorporate new techniques that were taught to them or why it would take so long to do so and after extensive study and experimentation he came up with Ikkos and it has developed vast improvements in swimmer times and has a user that won an Olympic gold medal in swimming.
The software app is free, but you can't do it without the head gear and the goggles. However, the price is only $65!
***
Here's a rundown of the other exhibitors I visited.
Piretti Golf -
Still a fine maker of putters and I was surprised because they have heavy putter weights, but their putters did not feel that heavy.
Edel Golf -
Always the busiest little booth at the show and their craftsmanship is stunning.
Here's my blurry picture of Bryson DeChambeau's clubs.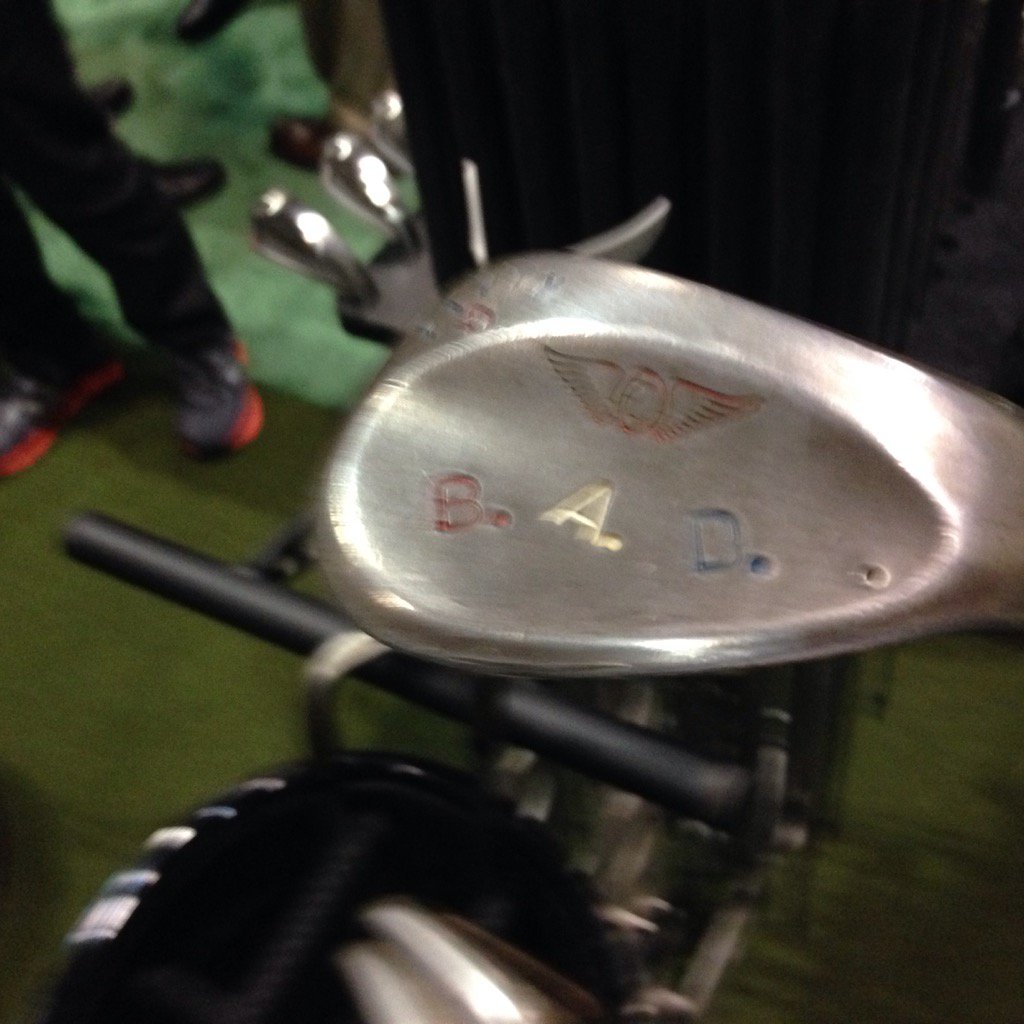 I think the only person that can hit DeChambeau's clubs are DeChambeau. They also said the same thing about Babe Ruth and his bat. They are extremely upright. I'm 6'4" tall and they were way too upright for me. They also have the Jumbo Max cord grips with the C-Taper shafts. I'll just say it takes some strong hands to hit these clubs. By the way, there was a great article on DeChambeau and David Edel on GOLF Magazine written by Alan Shipnuck:
http://www.golf.com/tour-and-news/bryson-dechambeau-custom-clubmaker-and-teaching-pro-might-be-start-golfing-revolution?page=4&simple=1
Alan Shipnuck is becoming the Frank DeFord of golf and it's really a joy to read his articles.
Directed Force Putters
I'm always for new technology, but I could not help but push each putt with this putter. The other issue is that the putter is such an exotic design that I'm not sure I would ever be able to line it up well. I would not count Directed Force Putters out. First, I tend to think that most equipment designs are really more about a club designed to fit certain swing mechanics. I honestly don't believe that there is any club there that works best with every technique. So, while I didn't care for the Directed Force Putter, it may work great for somebody else.
Furthermore, I do like the concept overall. And what we find is that good concepts that create unorthodox designs often eventually turn into the same concept with more of a standard design. So I wouldn't be surprised if down the road the Directed Force Putters turn out to look like an Anser style head.
Carbon Putters -
These are just as high end of a putter as you would see from Piretti, Byron Morgan, Edel, etc. I asked and they said they can basically do any type of customization requested. Want a Dale Head design with a flow neck, soften the bumpers a little bit with a 1018 Carbon Steel aggressively milled with a sound slot? You got it.
Sentio Putters
I could definitely feel a difference between each type of face and ended up liking the medium and firm faces the most. The soft was too soft for me. I asked them about Smash Factor readings and they told me the way they did it was to look at the COR of the face which works perfectly fine.
Foresight Sports -
As far as launch monitors go, I really enjoy what Foresight does. However, their 'booth' was more about simulators and I have little interest in them. I will say that they are as impressive as it gets. What I did take interest in was their Putting launch monitor.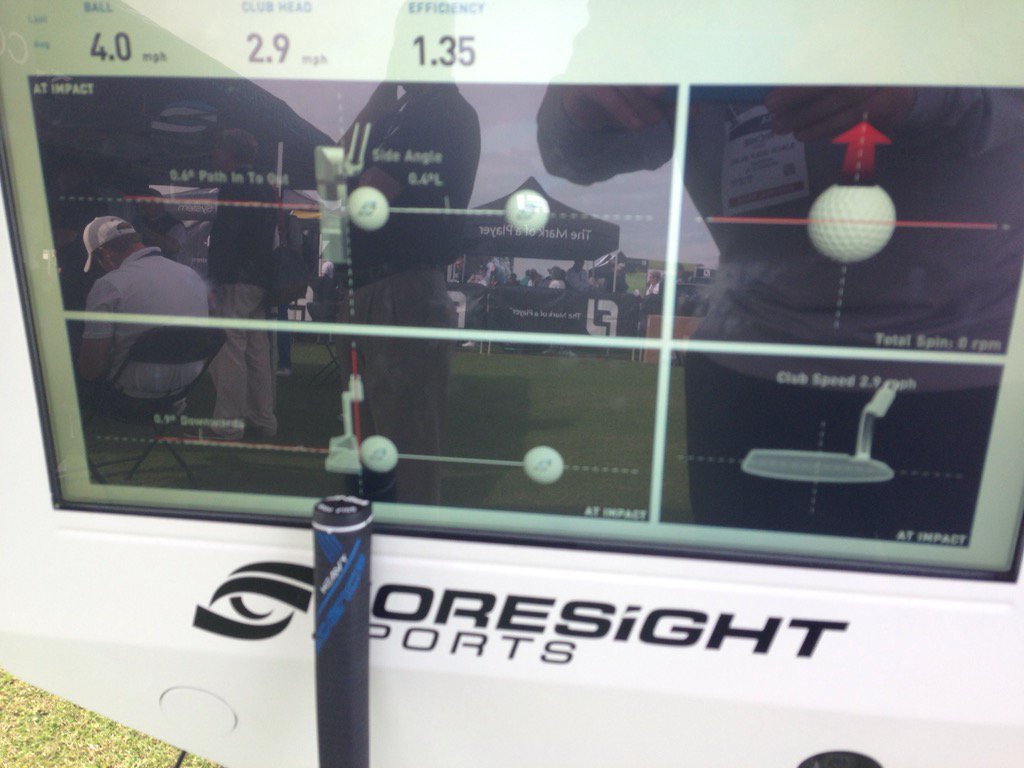 The product is still very new and has a long ways to go in terms of what they can potentially do with it. It's a wireless product that currently uses just 1 reflective sticker on the putter face (you can't even see it). That allows them to measure the attack angle, path, putter head speed and the ball speed (and therefore Smash Factor). They are planning to add another reflective sticker or two and then they will be able to capture impact location, face angle and rate of closure. The product retails for $13K-$15K.
MySwing 3D Motion Capture
- Some production problems had to be resolved as they were planning to get them out this past summer, but are now just shipping the product.
What's nice about this is the cost. It's $200 a month with a 2-year commitment. My friend, Peter Gauthier, heads up MySwing and said it best '
it gets golfers excited about their lesson.'
MySwing is completely wireless and easily hooks up to an iPad. It only takes about 5-10 minutes to hook up and the sensors only weigh a few grams. Dr. Phil Cheetham endorses MySwing.
Club Hub Golf
I love the idea of Club Hub, but at that price you always have to worry about accuracy and precision issues as we have found over the years that a lot of club measuring devices tend to be more inaccurate than accurate. If it's accurate, I think it's a great product.
4D Motion
- I only got to check it out for a few minutes. It's more 3D mocap design. I don't know the details of it, but talked to friends that were impressed by it. I'll be on the lookout for this.
Blast Motion -
Heard a lot of good things about this but didn't get to check it out.
***
Walking around for 7 hours straight, I was like this when I got home:
Afterward we had the 6th Annual Tweet Up at the BrickHouse Tavern hosted by Megan Padua (
www.meganpaduagolf.com
) and Vikki Vanderpool (
https://twitter.com/vvanderpool
).
Between the Tweet Up and the Show I was lucky to meet the following people:
Grant Waite (
https://twitter.com/grantwaite
)
Osten Waite (
https://twitter.com/OstenWaite
)
Lucas Wald (
www.p3.golf
)
Jeff Martin (www.p3.golf)
Birgir Bjornsson
Blair O'Neal (www.blaironeal.com)
John Graham (www.johngrahamgolf.com)
James Ridyard (www.jamesridyardgolf.com)
Jeff Smith (https://twitter.com/radargolfpro)
Mario Bevilacqua (https://twitter.com/MarioBevilacqua)
Joe Mayo (https://twitter.com/TrackmanMaestro)
Brian Gay (www.briangay.com)
Rob McGill (www.rm4golf.com)
Jason Helman (www.jasonhelmangolf.com)
Jason Sutton (www.golfgurutv.com)
Chris Como (www.chriscomogolf.com)
Vikki Vanderpool
Megan Padua
Lloyd Higley (www.chicagogolfacademy.com)
Mark Blackburn (www.blackburngolf.com)
Dr. Bhrett McCabe (www.bhrettmccabe.com)
Preston Combs (www.yourpargolf.com)
Keith Handler (http://keithhandler.wix.com/keith-handler-golf)
Lance Gill (www.lgperformance.com)
Nick Starchuk (www.nrsgolf.com)
Allen Burton (www.allenburtongolf.com)
Justin Blazer (www.justinblazergolf.com)
James Hong
And after 25 years I finally got to meet up with David Orr, again. David grew up about 15 minutes from my hometown in New York and He gave me my 2nd lesson ever back when he was playing the Ben Hogan Tour (now the Web.com Tour). I cannot recommend his tremendous Web site (
www.flatstickacademy.com
) enough. It has helped me tremendously with my putting and everybody that has joined on my recommendation has raved about the site as well. It's great to see another former resident of the 315 make it as far as he has thru hard work, intelligence and perseverance.
I wanted to thank all of the people I listed (and those that I may have forgotten) for taken the time to speak to me. I always learn a lot from these conversations and enjoy our friendship.
3JACK