This pic came from John Erickson's fantastic
Web Site
. The top pic shows the golfer's address position and the bottom pic shows the golfer at about P5. Click the picture to enlarge it.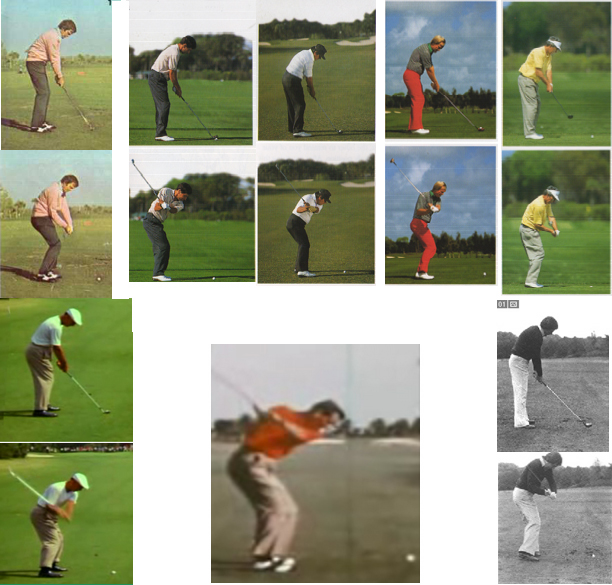 This collage was done to show 'vertical ground pressures.'
As you can see in each pic, each golfer has noticeably more knee bend on the downswing than they had at address. Or as
Mike Maves
likes to say, these golfers are 'making themselves shorter' on the downswing. This shows golfers using ground forces because they are essentially 'gripping' the ground and pushing off the ground so they can get a little more power in their pivot.
One of the things I've noticed about ground pressures and ground forces talk is that it's come from 4 'prominent instructors.'
- Sean Foley
-
Shawn Clement
- Mike Maves
- Mike Bennett
I do not find it to be a coincidence that the first three instructors are all Canadians.
Why?
Because hockey is the favorite sport of Canada (the national sport of Canada is actually lacrosse), it's very important to be able to stabilize the feet when hitting a slap shot. And my guess is that all three Canadian instructors have played hockey at some point in their life and understand how hard it is to power a slap shot when on skates. So why not apply that to golf?
And Mike Bennett, who along with Andy Plummer teaches the S&T golf swing, grew up near the Finger Lakes area of New York and was good friends with PGA Tour golfer Tom Scherrer who was raised in Skaneateles, NY. Scherrer was an excellent hockey player in high school and was the first person to use the Stack and Tilt pattern on the PGA Tour.
3JACK