In part II of my Vintage Iron Suggestions I look at the MacGregor line of irons. I don't think any company has produced more lines or sets of irons than MacGregor. In fact, there was a time when an average amateur, if they were willing to pony up the dough, could make a trip to the MacGregor plant in Albany, GA and get clubs grinded specifically for them and even have lunch with the company's CEO. Those days are long gone, but Scratch Golf (www.scratchgolf.com) offers that level of customization and service with their Tour Custom line of irons.
However, that's part of the problem with suggesting vintage MacGregor irons, there's a lot of customized jobs out there. Also there was a point when Nicklaus had to go to the company and tell them that their clubs were poorly made and designed and threaten to leave because he had his signature on them. The company turned around their level of product tremendously after Nicklaus read them the riot act, but it's still difficult to figure out if a set of irons were during the low point of the company. Also, MacGregor made quite a bit of irons that were more or less mass produced for department stores and such. There's a book of pretty much all of the MacGregor irons ever made, but I have yet to get my hands on it.
I would highly suggest any of the MacGregor Tommy Armour line of irons.
I think there is a 915, 945, and 985 line of Tommy Armour MacGregors. The 945 line I believe was the most popular of the Tour pros. I believe Johnny Miller used the 945's in the 70's (the 945's were actually made in 1953) and later signed a large deal with another equipment company and started using their irons but regretted it and went back to the Tommy Armours and just played his new endorser's woods.
The MacGregor MT85 Colokroms are excellent as well.
A golfing buddy of mine had a set of the Colokrom's in his basement and they felt extremely good and set up really nice as well.
Another nice looking set is the MT RMT2
However, you may have to get over the shading on the clubface.
The MT Blades may be my favorite MacGregors of them all.
You might want to be careful when getting these MT blades because there is your basic sole MT blades and then there is a 'step sole' MT blades and you may not like the 'step sole.'
The Muirfield line of irons was usually excellent.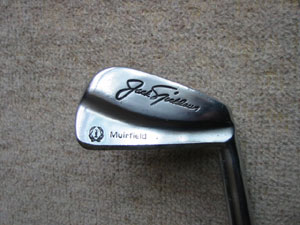 If you want an extremely small clubhead, I would suggest the Muirfield irons with the '20th Anniversary' stamped on the back of them.
However, I prefer the MacGregor VIP line, but only the type of irons that look like this:

There's a few different sets that look like that, some will have the 'Nicklaus' stamp on them and some will have a 'MacGregor' stamp on the back and then there's the famous 'Curtis Strange' stamp as well.
Of course, there are the Toney Penna VIP's which are superb.

Up next, WILSON STAFF
3JACK