Here's my current WITB:
Driver
: Wishon Golf 919THI, 44-3/8" long, UST Mamiya ProForce VTS Red 75x shaft, 10° loft
3-wood
: Wishon Golf 949MC, 43" long, UST Mamiya ProForce VTS 75x shaft, 15° loft
Hybrid
: Wishon Golf 775HS 18° loft, 40-3/4" long, Wishon Gold Tour Hybrid Shaft (stiff)
3 & 4-irons
: Wishon 555C, Wishon Stepless Steel (stiff)
5-AW
: Wishon 555M, Wishon Stepless Steel (stiff)
SW
: Edel Golf Digger Grind 56° loft, True Temper DG SL (X100)
LW
: Edel Golf Digger Grind 60° loft, True Temper DG SL (X100)
Putter
: Edel Golf Columbia Belly, 43" long
Ball
: Titleist Pro V1x With the new season coming up,
I will likely be toying with new ideas for clubs in 2013:
DRIVER
CURRENT DRIVER
: Wishon Golf 919THI, 44-3/8" long, UST Mamiya ProForce VTS Red 75x shaft, 10° loft
Currently, I'm interested in the Wishon 739CCG model.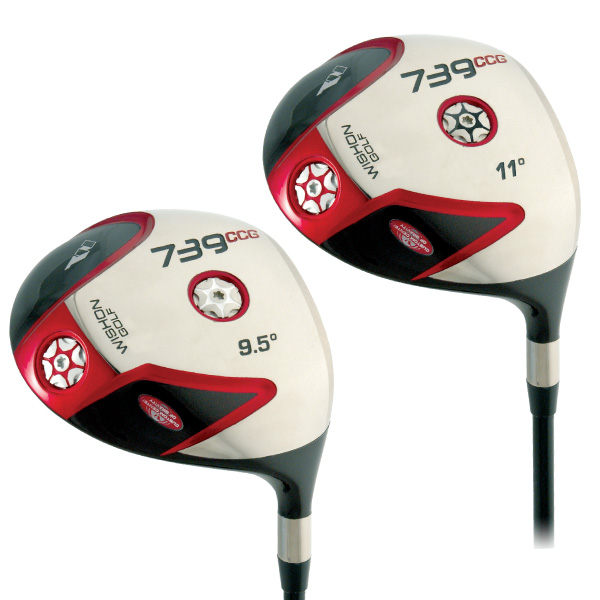 The 739CCG is one of the most customizable drivers on the market from a specifications standpoint. The CP-4 Titanium hosel allows the face angle and lie angle to be bent in 2° either direction. And according to Wishon, they can go as much as 4°. I doubt that I will need that.
However, the real fitting is done in the weight weight. The head weight comes at an ultra-light 193 grams. However, one can put the weight screws in to get it as heavy as 220 grams. Furthermore, if you utilize hosel weights one can get it as high as 229 grams. The weight locations can be altered to change the launch and the spin rate.
I've assembled a few of these together for some customers and I was surprised by how good the club looks. The pictures make it look like it would be a funny club, but it's very traditional looking from a titanium driver standpoint. The big thing that would prevent me switching is that I hit the 919THI exceptionally well off the deck. It's a big advantage on par-5's where there is a decent amount of room on the second shot. It's gotten to the point where I rarely need to use my 3-wood anymore. That's due to Wishon designing his drivers with 'Graduated Roll Technology' which means the loft in the center of the face of the driver is the same as the loft at the bottom of the face of the driver where most drives off the deck are struck.
This is where I think Wishon is WAYYYY ahead of the game when it comes to the drivers. His 739CCG also has GRT, so hitting them off the deck should not be an issue. And who knows, maybe I carry a 9.5° lofted 739CCG driver and my '3-wood' becomes a 10° 919THI.
3-WOOD
CURRENT 3-WOOD
: Wishon Golf 949MC, 43" long, UST Mamiya ProForce VTS 75x shaft, 15° loft
As I just mentioned, I do not get to use the 3-wood much given my success off the deck with the 919THI. I've considered going back to the 929HS model which is a shallower head.
WOOD SHAFTS
CURRENT WOOD SHAFTS
: UST Mamiya ProForce VTS Red 75x I think UST Mamiya's VTS shafts are very good.
I do not have a bend profile on them yet, but I believe they are stiff in the butt section and X-Stiff in the tip section. I hope that Wishon Golf updates their shaft profile software (invaluable tool) this year and puts the VTS shafts in there. I tend to lean to believing that the tip section might be a little too soft for my swing. I would be interested in seeing how that compares to the Wishon S2S Black shafts.
HYBRID
CURRENT HYBRID
: Wishon Golf 775HS 18° loft, 40-3/4" long, Wishon Gold Tour Hybrid Shaft
I've had moderate success with this hybrid. I think I hit my Mizuno MP hybrids better (I still have them). But, they are at 20° loft and do not travel as far. I may switch out the hybrid for a 929HS 5-wood.
3 & 4 -IRONS
CURRENT 3 & 4 IRONS: Wishon 555C
I discussed equipment and bag setup in 2012 Pro Golf Synopsis. For a player of my handicap, I need to do more than consistently advance the ball and need to find greens and possibly get some shots inside 30 feet when I'm in the Danger Zone (175-225 yards). Generally, the best Danger Zone players on Tour have carried a bag setup of:
Driver
3-wood
Hybrid/2-iron/5-wood
3 iron thru PW
SW
LW
Putter
I currently hit my 3-iron decent and the 4-iron may be my best iron in the bag next to my 6-iron. But, the difference from iron to iron has improved tremendously since I went to MOI matching in place of swingweight matching. However, I'm always looking for an edge. I think the reason why the better Danger Zone players on Tour use that setup is not only do they tend to be precise enough with a 3 & 4-iron, but the spin rate is better than with a hybrid and it's more likely to hold greens.
I think you can hold greens with hybrids, but in order to hold them like a 3 & 4-iron, you have to have the ability to hit it super-high. I think there's nothing wrong with a good player using an extra hybrid in place of a 3-iron. Maybe they just struggle with a 3-iron. Again, for better players advancing the ball consistently is still the #1 rule from that distance. However, if they want to optimize performance, they may need to figure out how to hit the 3-iron better and bag it. Anyway, I'm currently interested in Wishon's 870TI model.
The combination of forgiveness, distance and lower CoG makes me think it's worth giving it a shot. If not, I can always stick with my 555C's.
5 iron thru Attack Wedge
CURRENT 5-AW
: Wishon Golf 555M
I am interested in the 575MMC Forged model from Wishon Golf.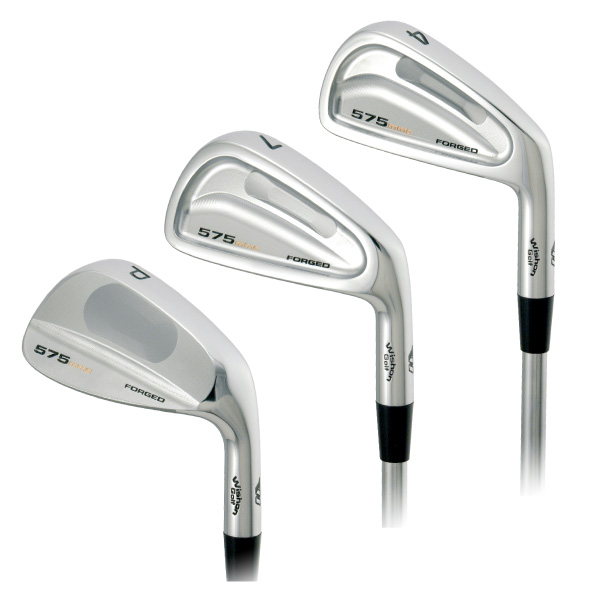 Wishon has recently introduced two versions of the 575MMC. The cavity backs go from 3 iron thru AW and the Muscle Backs go from 5-iron thru AW. I would probably go with a CB 5-iron and then muscle in the 6-AW. That would help transition from the larger 870TI 3 & 4-iron heads. These heads are the smallest of Wishon's iron models.
I have the 3-iron and I like it. I hit it about 5-10 yards further than my 555C 3-iron on a good strike. But overall I think the difference from the 555C is negligible. However, I think rest of the irons may provide a little higher ball flight an added distance. The only thing I don't like is the chrome finish.
3JACK