For those who have followed the forum (http://richie3jack.proboards.com), you have noticed that I have played a lot of different golf courses this year. Since I live in Orlando and it's a popular winter vacation, I wanted to rank the top-10 courses I have played this year.
1. Juliette Falls Country Club (Dunellon, FL –

www.juliettefalls.com)
Juliette Falls is located about 10 minutes west of Ocala. That would make about a 90 minute drive from those staying in Disney or I-Drive. But the price to play there should be very affordable come winter time and since it is a former private club that is out of the way, pace of play should be quick. In other words, it is well worth the trip.
It's a parkland style course with some of the most beautiful and difficult par-3's you will ever face. It's tough, but fair and in good condition. The greens were moderately fast when we played there in the Summer, so I would expect them to be very good in the winter.
Designer
: John Sandford
Favorite Hole
: #8, 446 yard par-4
2. RedTail Golf Club (Sorrento, FL –

www.redtailclub.com)
Another formerly private club now available for public play. It is also fairly affordable and the pace of play should be quick. Probably looking at a 1-hour drive from Disney or I-Drive in Orlando. Combines a bit of parkland style and American links style of design. Starts out fairly tough and ends a little tough, but it's still reasonable in its design. Not quite in the shape Juliette Falls was in, but still in good condition and should be in better condition come winter.
Designer
: David Harman
Favorite Hole
: #17, 554 yards par-5
3. Mission Inn, El Campeon Course (Howey-in-the-Hills, FL –

www.missioninnresort.com)
Fascinating course because it may be the hilliest course in all of Central Florida and you don't recognize it until the 4th hole. The course was built in 1917 and holds up perfectly to all of the advancements in technology. The course also has a very old school PGA Tour venue type feel to it. Again, the greens were a little on the slow side, but we were playing it in the Summer, so by the winter in should be in great shape. About a 45 minute drive from Disney and more like 35 minutes from I-Drive.
Designer
: George O'Neill
Favorite Hole
: #10, 569 yards par-5
4. Legends at Orange Lake Resorts – Orlando, FL (http://orangelake.com/tour_our_resort/the_legends.html)
Very pleasant surprise that is located just a 10 minutes from Disney. I think Arnold Palmer is the most underrated architect by architecture critics, although I was not a big fan of one of his most famous designs…Kings North in Myrtle Beach. But he creates another dandy at Orange Lake resorts. This was more of a Austalian sand dune style of design which is something I'm not accustomed to seeing from Arnie, but he beautifully pulled it off. And try the cheeseburger made with macaroni and cheese.
Designer
: Arnold Palmer
Favorite Hole
: #9, 420 yards par-4
5. Legacy Club @ Alaqua Lakes – Longwood, FL (www.alaqualakesgolfclub.com)
I tend to think Fazio designs are a little overrated because he is rather conservative in his designs to avoid bad golf holes. But he has designed a wonderful course here which is very parkland style and has a little bit of flare on some holes like #9 and #18 with how the trees overhang in the fairway, much like you would see from Caledonia Golf & Fish Club in Pawleys Island, SC or Valderama in Spain with their famous cork trees. The rest of the course is a traditional design, but still well done. It's mostly a private club, but you can get on via TeeTimesUSA.com. The course is about 35 minutes from I-Drive and 45 minutes from Disney. It's not cheap to get on, but it's in terrific condition and you won't have to worry about pace of play. Furthermore, it's just off I-4. Oh, check out the house on #11, one of the biggest in all of Central Florida.
Designer
: Tom Fazio
Favorite Hole
: #15, 557 yards par-5
6. Southern Dunes – Haines City, FL (www.southerndunes.com)
Southern Dunes is not in Orlando, but is only about 10 minutes from Disney and about 15-20 minutes from I-Drive. It's a traditional parkland style of course known for having the best greens in the area and I agree. When we played there the greens were 11 on the stimp and smooth. Furthermore, they had just aerified the course about 3 weeks earlier. Both nines are about equal in difficulty and there are a lot of tremendous sight lines throughout the course.
Designer
: Steve Smyers
Favorite Hole
: #7, 454 yard par-4
7. Grande Pines – Orlando, FL (http://www.marriott.com/golf-hotels/mcogv-marriotts-grande-vista/grand-pines-golf-club/5230286/home-page.mi)
Another Steve Smyers design that is a little more exotic and offers more of a mix of traditional parkland and sand dunes style of design. Right down the road from Sea World and across the street from the Faldo Golf Institute. The course is more narrow, particularly on the front, than one would imagine for a resort style course. It also has some fairly complicated green designs. But the course was fun for everybody and in terrific shape. The greens have TifEagle grass and putt beautifully.
Designer
: Steve Smyers
Favorite Hole
: #11, 551 yards Par-5
8. Harmony Golf Preserve – Harmony, FL (www.harmonygolfpreserve.com)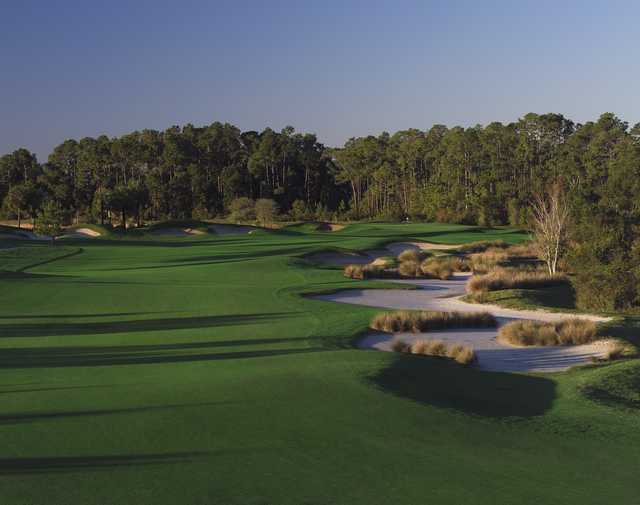 Located about 25 minutes from the Orlando Airport, so about close to an hour from either Disney or I-Drive. We started on the back nine when we played there and I thought the back nine was phenomenal. However, I had to remember that the front nine was a bit lacking. Still, the front nine is pretty darn good outside of #2 (par-4) and #6 (par-3). This is another course with a bit of an Australian Sand Dunes style of feel to it. When we played there in April, the greens were in rough shape, but the course has come around since then. One of the toughest courses we played all year.
Designer
: Johnny Miller
Favorite Hole
: #16, 548 yard par-5
9. Sugarloaf Mountain – Minneola, FL (www.hamptongolfclubs.com/Sugarloaf-Mountain)
Sugarloaf Mountain is rough around the edges, but it's a blast to play. It's located in the Clermont area, about 30 minutes from I-Drive and 45 minutes from Disney. While I've never played golf in Australia, I tend to imagine that this would be more of what it's like to play there. I think my only problem with the course is that while most of the rough spots are designed that way, some of them need to be taken care of since you have to take a golf cart and sometimes you have no idea where to drive. Tough course with some tremendous drop offs like #17, the 275 yard par-3. But it 'only' plays to 225 yards with the downhill slope to the green.
Designers
: Ben Crenshaw and Bill Coore
Favorite Hole
: #1, 445 yards par-4
10. Celebration Golf Club – Celebration, FL (www.celebrationgolf.com)
You usually know what you are going to get with a Robert Trent Jones design, a solid course that if a few things work out well, it can be a top tier design. The course is located about 5-10 minutes from Disney in the newly developed town of Celebration. It has probably the nicest houses off the course than any course in the Orlando area, including Lake Nona and Bay Hill. And they are eerily quiet.
The front nine was a little too screwy for me, particularly on holes 3 thru 5 and 7 and 8. But the back nine is a masterpiece and is just flat out fun to play.
Designers
: Robert Trent Jones
Favorite Hole
: #15, 361 yards par-4
3JACK
Read more:
http://richie3jack.proboards.com/index.cgi?board=blog&action=display&thread=3877#ixzz2A4oxosq9