On my forum I mentioned that I was considering more modern sets of irons for 2011. The big reason being mostly has to due with power, trajectory and bounce angles of the vintage irons I play. The set I play best with are the 1967 Hogan PC5 irons.

But when you are looking to play at a high level of amateur golf where courses can often range from 7,300 to 7,600 yards long, power with the irons becomes more important. Particularly on long par-4's and long par-3's where you need to parachute the longer irons into greens so they have a shot at holding the green. A great example of this was watching the '09 Tour Championship at East Lake in Atlanta. IIRC, the 6th hole is a 215 yard par-3 island green. #18 is 240 yard par-3 that goes uphill. Watching the shorter, but much more accurate Brian Gay attempt to play this course versus the much more wild but longer Tiger Woods was a shining example of how the game has changed in the past 20 years to what I call 'carry golf.' Gay could hit a hybrid into a par-3 very well while Tiger could hit a so-so 5-iron and Tiger would almost be guaranteed to have a shot that would wind up better than Gay's shot (unless Gay took a great swing at it).
I just think the days of hitting 'low bullets' are just about done, even on the amateur level, and the days of irons being completely about accuracy, consistency and distance control has now become more about accuracy, consistency, distance control and the ability to hit it high and long on command.
I will say that I've come to realize that the best iron players I've personally witnessed were all great at controlling the trajectory. Typically, they also are able to hit the irons very straight, but there are a few that have some sizeable bend to their ball flight. But if they want to hit it high, low or medium trajectory, they could do it without a problem. I think that was probably Tiger's greatest asset when it came to his ballstriking (pre-affair Haney era), he could hit it high, low and medium height on command. He certainly wasn't the straightest or most consistent, but if he needed the ball to land soft with a 4-iron, he could do it and if he needed to pierce thru the wind with an 8-iron, he could do that as well. So a big part of my end goal, swing wise, is to be able to CP and CF Release the club on command and work the ball left to right and right to left on command. That will allow me to work the curve and work the height of the ball to hit the most optimal shot the most amount of times on the course.
Lastly, the vintage irons have 0* bounce angles with sharp leading edges, so the club sticks into the ground easily in the thicker Florida bermuda grass. And if you try to make the lofts stronger, the bounce angle will turn into a negative bounce angle. That being said, I still employ the philosophy of flatter lie angles because I think it helps keep the downswing plane from getting too upright and the handle getting too high at impact.
So here are some of the irons I'm considering.
NIKE GOLF VR BLADES
PROS AND CONS
: One of the things I've noticed about the vintage blades I carry is that their steel feels slightly softer than the Mizuno MP-62's that I have. And that the Mizuno's feel slightly softer than most of the other forged irons I've had. What I found is that the Hogan's were made from 1020 carbon steel. The Mizuno's were made from 1025 carbon steel and the others I've tried are made from 1025 or 1035 carbon steel.
The Nike's are made from 1025 carbon steel. I like the shaft length specs (38" for a 5-iron), but the loft may be a bit too strong (27* for a 5-iron) and the lie angles are a bit upright (61* for a 5-iron, I typically play a 59* 5-iron). Of course, you can just bend the lies and lofts, but I would prefer to stay away from that if I could. The swingweights are at D-2, and I prefer more of a D-4. They do have plenty of custom shaft options, including Project X, KBS and Nippon shafts. I've never hit the Nike's, but they were designed by Tom Stites who designed Hogan irons for years.
PRICE
: $499 - $899
MIZUNO MP 68 BLADES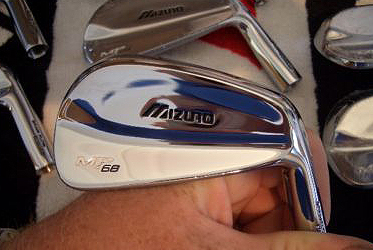 PROS AND CONS
: Mizuno has been atop of the muscleback irons industry since the MP-29 irons. Their latest set of blades, the MP-67's didn't fare very well, but the MP-68's have drawn rave reviews. I have the MP-62's which are made from the same steel (1025 carbon steel) and use the same 'grain flow' forging process.' The grain flow forging process is supposed to take the air bubbles out of the forging of the steel and that is supposed to make for a better forging. Having worked in the marketing and advertising industry for about ten years, there are companies that advertise something like this even though it's an industry wide standard. But the advertising and marketing of the process sounds nice to the consumer and they buy into it. And because the company trademarks the advertising campaign, they get the advantage over their competitors. Perhaps Mizuno is doing the same thing and perhaps grain flow forging is an industry standard. But typically I find Mizuno's to be a little softer than most of their competition and for the most part, it's not easy to tell if the Mizuno's 1025 forged carbon steel is harder than my Hogan's 1020 forged carbon steel. I sometimes think the difference may be in the off center hits (Mizuno's being a little harsher on the off center hits).
The thing I did like about my MP-62's is that they could be custom built in just about every regard. Any type of shaft I wanted, any type of swingweight I wanted, every type of grip, lie angle, loft, etc. Their standard specs are 37.75" shaft length, 60.5* lie angle and 27* loft with a 5-iron. So the effective lie angles are a bit flatter, although I think I will want a 38" shaft given my height. The loft seems a tad strong (I prefer 28*), but we could work around that.
PRICE
: $899
SCRATCH SB-1 BLADES
PROS AND CONS
: Scratch Golf is the leader in golf club customization. Customers have their choice of chroming, ferrules, lies, lofts, engraving, shafts, grips, etc. In fact, they have a Tour Custom set of irons that allows the golfer to design the toe shape, sole grind, stamping and finish. However, I do not feel the Tour Custom is an option for me. It's not that I could not afford the price of the Tour Custom ($2,500 for a set), but at that price I would have to be convinced that I would play this set for the next 10-20 years.
So the 'regular' SB-1 set is more affordable and more justifiable for me. Scratch uses 1018 carbon steel which is supposed to be the softest and also has the widest range of shafts available, including the elusive True Temper 'Tour Concept' shafts which I have yet to try, but want to do so since I've heard rave reviews about them. They also have any type of grip you could want as well, like the IOMIC grips. They come at the cost of an upcharge, but they are available.
The Tour Custom irons are also grinded by world renown grinder Don White.
COST
: $1,199 ($2,500 for Tour Custom)
MIURA TOURNAMENT BLADES
PROS AND CONS
: Miura is much like Scratch Golf in terms of being an upper echelon, custom made equipment manufacturer. I've hit their older version of the tournament blade and liked it, although I felt that the Mizuno's were softer. However, that was hit off a mat and indoors which is not easy to decipher.
They also have plenty of shaft and grip options. I prefer the slightly heavier grips, although I think the Dynamic Golds probably go a tad too low, so I think I would prefer more of a KBS type of shaft. The Miura irons I believe are made from 1025 steel and that could explain why they feel slightly harder than the Mizuno's.
The Miura's have the flattest lie angles of all of the OEM's for standard specs (60* with a 5-iron), but they have a 27* loft (5-iron) and 37.75" shaft.
COST
: $1,199
WILSON STAFF FG 62
PROS AND CONS
: I like the fact that Wilson Staff is making a comeback of sorts in the golf equipment market. Wilson Staff used to be a top 3 OEM for top tier players (along with MacGregor and Hogan). But now Hogan is completely dead and MacGregor is now a part of GolfSmith. It's really sad because Hogan and MacGregor used to make some really great irons and the best looking set of irons I ever saw was a custom set my friend had made by MacGregor and I own 5 different sets of vintage Hogans.
I think the keys to keeping afloat in the equipment market is to get do well with the irons and in particular the drivers because the drivers have to have a huge profit margin on them. Then from there you must get PGA Tour players to play your equipment. Ping is a great example of this as they were pretty much known as an iron and putter OEM, but were smart enough to really develop their drivers and were smart enough to offer excellent deals with college golf teams and when a hot shot collegiate golfer turned pro, they would likely be the frontrunner to endorse them.
Anyway, I think in the end Wilson did the smart thing by keeping Padraig Harrington on their staff even though his play has dipped recently. He's still a very likeable and respected player by the fans. The problem is that they need more PGA Tour players on their staff.
As far as the FG 62 irons, I don't know the specs, yet. However, looking at the specs for their current FG 59 irons they have very long shafts (38.25" for a 5-iron) and with a lie angle of already at 61* (5-iron), that could be an effective lie angle difference of 2* more upright than a lot of clubs. They only offer Project X and Dynamic Gold for shafts according to their Web site, but they may offer other shafts if asked.
PRICE
: $899
CALLAWAY X-PROTOTYPE BLADES
PROS AND CONS
: I'm a bit skeptical towards Callaway because of my bad experiences with their quality control. From shaft flexes being wrong to inaccurate driver lofts to the old Warbird driver heads going dead to Odyssey Putters with lofts all over the place to their wedges scuffing up golf balls…not a pleasant experience.
I've heard mostly good reviews about the X-Prototypes and the negative reviews were mostly due to the cost (at one time, Callaway was charging $1,499 for a set of these). They do use 1020 carbon steel. Standard is 61* lie angle, 27* loft and 38" in length (5-iron).
It appears they only offer them in Project X, a shaft I'm not interested in.
PRICE
: $999
TITLEIST 710 MB BLADES
PROS AND CONS
: I felt from about 1996-2005 Titleist was THE manufacturer for great equipment, from the driver to the irons to the wedges to the putters and to the ball. Since '05 the quality and innovation seems to have dipped a bit as the golf ball is becoming less popular with companies like Callaway and Taylor Made adding their own very popular golf ball. Their latest drivers haven't appealed to me, but when looking at the PGA Tour stats for 'optimal driving distance' (yards carry / clubhead speed), the Titleist driver is on top of the list. The Vokeys are still good, although I prefer a forged club and the Camerons are still wildly popular, although I'm not quite sure why.
Still, it's nice to see Titleist get back to making some nice, classic looking blades. Standard specs are 62* lie angle, 27* loft and 38" shaft (5-iron). That lie angle is very upright, so I would need to flatten that out a bit. The MB's are made from 1025 carbon steel.
PRICE
: $899
CLEVELAND CG TOUR IRONS
PROS AND CONS
: I was disappointed to see that Cleveland Golf apparently does not make muscleback long irons anymore with the 3-5 irons of their current CG1 Tour set being cavity back and the 6-PW being muscleback. As a sub-scratch golfer, I'd like the option of a muscleback or a cavity back. Unfortunately I think this will be a sign of things to come and in 10 years only a few OEM's will have muscleback 3-5 irons. I could live with a CB 3 and 4-iron, but I wouldn't want a CB 5-iron as usually I can hit my 5-iron high enough and long enough without issue.
Cleveland no longer makes the CG Tour irons anymore, but there are brand new ones available for sale. I have hit these and they feel great. The specs are 61* lie angle, 27* loft and 37.75" shaft (5-iron). I would expect the shaft options to be limited.
PRICE
: $799
3JACK