I've spoken to a few readers thru e-mail about clubs lately and they've asked some questions on forged clubs vs. cast. One of the big reasons why is Ping Golf has made their first forged irons in the Ping Anser irons.
WHY DID PING GO TO FORGED AFTER ALL OF THESE YEARS?
Ping has always favored the cavity back irons. Karsten Solheim got the company off the ground with its cavity back putters (which most considered to be 'ugly') and then had mega success with the Ping Eye 2 irons.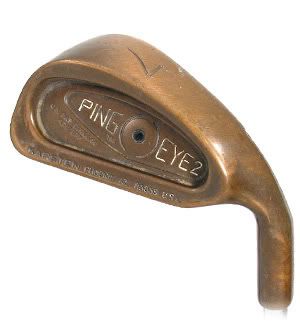 I think Ping's success in the irons market has changed dramatically as more golfers who favor the game improvement or player cavity back irons are going to the Mizuno (forged), Callaway (forged) and Titleist (forged) irons. Plus, the Japanese market greatly favors the forged club over the cast clubs.
We also have to remeber that for awhile you could not forge cavity back irons I think this combination is why it took awhile for Ping to get into the forged game.
WHAT IS FORGING?
Take a look at this video by Mizuno.
So the difference is that with cast they melt the metal into a molten liquid and pour that molten liquid into an iron molding that looks like this: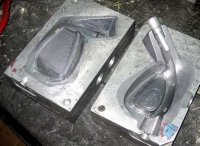 Then they let it cool down and it takes the shape of that iron head, then they grind it down into an iron head.
With forged, they take the steel and make it red hot, but it stays in solid form and they use a metal stamp press that takes the shape of an iron head.
WHY FORGED?
1. It will generally feel softer. It's a bit hard to describe. The Tour players talk about how they feel that they've got 'better control over the ball', but it does just feel better.
2. Because forged is generally softer, one can manipulate the lie angles and lofts much easier and thus the clubs can be much more customized.
3. Typically muscleback blades are forged and cavity backs are cast (although that is changing) and many golfers prefer more of a blade style iron.
WHY CAST?
1. Typically cavity back irons are cast and many golfers prefer cavity backs over muscleback blades.
2. Forging costs a lot more because of the labor. Forging is skilled labor.
WHY COULD THEY NOT FORGE CAVITY BACKS IN THE PAST?
They didn't have the technology that they have today where they can take forged steel and put it into press that will have it take the shape of a cavity back iron head.
Forged Cavity backs have been around for a little while though. In fact, I believe the Hogan Edge irons were the first ever irons that were forged cavity backs.
I WAS TOLD THAT ONE CANNOT FEEL THE DIFFERENCE BETWEEN A FORGED AND A CAST IRON, IS THAT TRUE?
Yes...and no.
There was a test done on this awhile ago where the results were that 'golfers couldn't tell the difference between a forged or a cast club.' If I recall, it was done by Ping.
The problem was the test was flawed because it tested the same type of steel, it just forged the steel for one club and cast the steel for another club.
Forged irons will usually be made from carbon steel that is numbered. Such as:
- 1018
- 1020
- 1025
- 1028
- 1030
- 1035
There are others, but I think you get the point.
The problem is that you cannot make cast clubs from any of thoe metals.
Cast irons are made from metal like 17-4 stainless steel or 8620 carbon steel. I believe the Ping test was done where they forged 17-4 and cast 17-4.
So if a company forges a club from say 1025 carbon steel, there will be a noticeably softer feel in that compared to a 17-4 stainless steel cast iron.
DOES THE SOUND MAKE A DIFFERENCE IN FEEL?
I think it does and this Mizuno video shows the difference
But like I stated, if the forged iron is made from a softer steel, it's just softer...period.
WHY ARE SOME FORGED IRONS SOFTER THAN OTHERS?
Again, it's the steel that is used.
In the carbon steel that starts with the numbers '10' (ie. 1025 carbon steel, 1028 carbon steel), the lower the number, the softer the steel. So 1020 carbon steel is softer than 1035 carbon steel. The 8620 steel, which you see in Vokey wedges (although they are cast) is actually pretty soft in its own right, but 1025 is softer.
There is a lot of talk about the forging process making the steel softer. I think there may be some slight merit to that. I think Mizuno's 'grain flow forging process' which is designed to remove any air bubbles from the forged steel, seems to have some merit. But if an iron has 1020 steel in it, it will probably be softer than Mizuno's 1025 grain flow forged steel.
Here's a list of some of the different companies that use different types of steel in their process.
1018 - Scratch Golf (only company)
1020 - Bridgestone, old Hogan irons, Golfsmith MacGregor VIP, old Wilson Staff, Callaway.
1025 - Mizuno, Titleist, Nike.
1028 - Blade Golf
1030 - Dynacraft
1035 - Wishon Golf
8620 - Cleveland Golf (both forged and cast clubs), Ping (Anser only), Scratch (select wedges only)
17-4 - Ping
3JACK