I've been asked about the 'shorter swing = more distance' topic that has been recently discussed. As I've discussed in a few of the previous posts, one thing I'm working on is shortening the backswing and I've found that I'm actually gaining distance with a shorter swing.
Why?
Well, one of the issues is that the longer swing throws off my alignments more. Take a look at this pic:
Here's a Face On view to show the differences in backswing length.
For me, the longer swing gets me laid off at the top and then it throws the downswing off and I don't get as much angular momentum into the ball.
Here's a video shot by blog follower gmbtempe of U. of Arizona Golfer, David McDaniel.
David hit this 9-iron, 160 yards, with that swing that only went back to about '9 o'clock'. Why? Because his impact conditions are superb.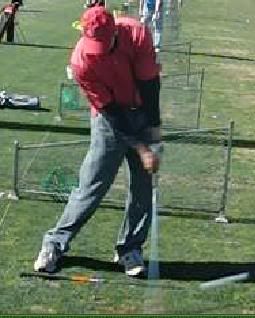 Now, I hear a lot of people saying that they need to shorten their swing to hit the ball more accurately and more consistently. I don't agree with the notion that a shorter swing will guarantee more accuracy. Here's a video of Sam Snead, one of the all-time great ballstrikers, in his prime.
And if you want to hit it super long, you won't see any Re-MAX long distance driving competitors with a '9 o'clock' backswing.
But, there's more to playing 'real golf' than hitting it long. And one can hit it long and more accurately and more consistently, with a shorter backswing. That's certainly a possibility, you just need to find out what works best for you.
3JACK