A friend and I were discussing putting and in particular Bryson DeChambeau's putting. DeChambeau's putting has been notable since he has fooled around with it pretty extensively in the past year or so and recently went to side saddle. DeChambeau has discussed how confident he feels in his swing technique, but has struggled to 'figure out' putting.
Prior to officially going to the side saddle motion, DeChambeau claimed that side saddle putting was biomechanically more efficient and I think he felt like he was onto something. However, here's a look at his Putts Gained per Event in his pro career.
(click to ENLARGE)
Blue Bars
= Edel The Brick putter (conventional)
Yellow Bar
= Directed Force putter (conventional)
Red Bars
= Side Saddle
Green Bars
= S.I.K. Putter (armlock)
We don't see any improvement in DeChambeau's putting since changing to side saddle and armlock putting. In fact, it got worse.
***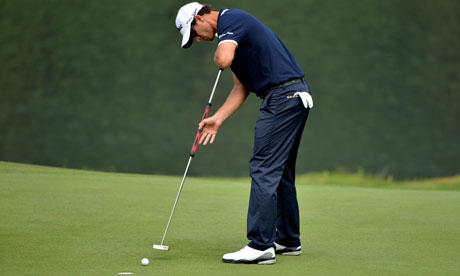 he Side Saddle putter that DeChambeau was using was eventually ruled non-conforming by the USGA. This brings up the point that the USGA recently banned anchor style putting.
I was personally against the anchor ban because I felt the USGA based it's reasoning solely on speculation and the looks of the anchored stroke rather than actually determining if '
technology is replacing skill
.'
And I don't have a problem with banning a technique if it looks inappropriate, but at least place the ban when the technique/techology comes out…not wait 25 years in order to do so. I think the USGA was greatly influenced by people like Tiger Woods who had complained that it gives golfers an unfair advantage. Again, that is fine…but you need actual evidence to back up your claim. Otherwise your credibility as a rules organization suffers because it's apparent that you can be influenced by certain people instead of being an objective committee that is looking out for the best interests of the game thru objective research.
With that being said, I have mentioned that in various editions of
Pro Golf Synopsis
that I did find that Tour players that used the broomstick non-stop usually found improvement in their putting in the 4th year of use. I predicted this would be the case for Adam Scott and it came true:
Scott started going to the long putter in 2011. He was given rave reviews for his putting in 2011 when he made the switch, but in reality he was still a mediocre putter. At the end of 2013, he started using AimPoint's green reading system which the data shows takes about 3-12 months for a golfer to see significant improvement in their Putts Gained metric.
The issue with belly putter analysis was the sample size. The belly putter was popular in the early 2000's, but then died off until about 2009. And by then most of the belly putter users were younger players who had no real data of them using a conventional style of putting.
One could argue that with the drop-off of former belly putters like Keegan Bradley and Webb Simpson that it proves the impact that the belly putter had (even still, the USGA still had no evidence of this at the time they made the ban).
And with the broomstick data showing it takes about 4 years for that to kick in that…yes…anchor putting gave an unfair advantage to golfers.
However, I submit that the issue isn't the technique and that what it is about is the player's commitment to using 1 particular method of putting and sticking to it. I think with the anchored putting style, those players had just given up on conventional putting and committed to anchored putting no matter how bad they putted. I think the opposite would be true if you had a poor anchored putter that decided to go to conventional style and stuck with the same putter and the same stroke…over time they would improve as well.
One of my Tour clients did this as well. He liked to tinker with his putting and his putter and finally stuck with one putter and stuck with a left hand low putting stroke and decided to not deviate from that no matter what. And the end result is he wound up being a below average putter to one of the better putters on Tour.
***
I think that may be one of the biggest mental barriers for DeChambeau. I think his mindset is that he can find that magic bullet to his putting and that's really not the case with putting.
I've been fascinated by much of DeChambeau's story and how he came up with his swing and then the single length irons. Essentially, he believed that a 'Zero Shift' swing as described in Homer Kelley's The Golfing Machine was a superior technique. The issue he found was that the lie angles in his irons needed to be the same and you could not actually achieve that with the varying length irons.
The issue with making the irons all the same length is that the weighting would be off because the iron heads have varying weights as well. Essentially, the long irons would be way too light and the short irons would be way too heavy. He finally found a way to make the heads all the same weight and the first time he tried it he flagged his 5-iron shot-after-shot and that's when he knew he was onto something.
I get the feeling (I could be wrong) that, in a sense, DeChambeau found his magic bullet with his swing. And therefore, he expects the same with putting. I think this is what many golfers (myself included) have searched for in putting and it simply is not going to happen.
The difficult part in all of this is to determine when to stick with something and when to change it in order to get better.
How does one determine that?
I can try something new and make putts one day, but that may be purely coincidental and then I can't make anything for weeks.
While SAM Puttlab data is nice, it doesn't necessarily equate to making more putts.
So, that is really the great unknown. But when it comes down to putting it's about eventually finding something that works for you and sticking with it. It's like having an old car that you know like the back of your hand on how to get it to run smoothly and how to immediately repair it when it's breaking down. It just becomes a question of finding the right car for you.
3JACK