Yesterday, the USGA proposed the following rule changes (
http://www.usatoday.com/story/sports/golf/2017/03/01/proposed-changes-golf-rules-simplify-game/98559136/
)
A player will not receive a penalty if the ball (or ball marker) accidentally moves on the putting green or in search of a ball.
Players can leave the flagstick in the hole while putting.
Players may repair spike marks or other damage, including foot prints, on the green with no penalty.
Caddies will no longer be able to line up a player. This will be a big change on the LPGA tour, where many players have their caddies line them up before stepping away just before the player makes a swing.
Players who have trouble in bunkers could get relief. If you want, you can remove your ball from a bunker (and place it in the fairway or rough behind the bunker, depending on where the bunker is) and accept a two-stroke penalty.
A new procedure for how to drop a ball in a relief area.
Time searching for a lost ball would go from five minutes to three.
There's a proposal calling for players to take no more than 40 seconds to play their shot.
Most of these rulings I like, except for the new procedure to drop the ball which says the player can drop it from any distance above the ground. I think this allows the player to make a better drop when usually the drop is occurring from a poor shot. The rule should be simple...the player must drop the ball from above their waistline.
I also thought the time search for a lost ball going from 5 minutes to 3 minutes brings up another discussion....the impact the cost of golf balls are having on the game.
The goals of these proposed rule changes was:
1) Cut down the rule book
2) Help pick up the pace of play.
But, what gets overlooked in all of this is that the cost of the golf ball has greatly hurt the popularity of the game and has greatly slowed down the pace of play.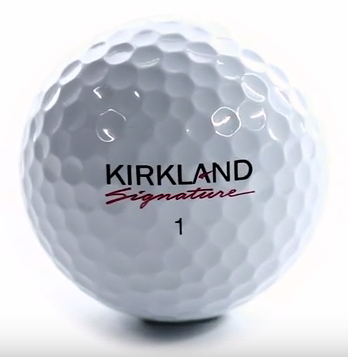 Recently, the big craze in golf was when golfers started to see that Costco's Kirkland Signature golf ball performed roughly as well as the Titleist Pro V1(x) models. The difference was in the price as the Kirkland cost only $15 per dozen ($1.25 per ball) to the Pro V1(x) which retails for $48 per dozen ($4 per ball). That's nearly a 70% price drop.
The Kirkland ball exploded in popularity where in just a couple of short months, Costco ran out of the balls even though the general consensus was that the Kirkland was very slightly inferior to the Titleist Pro V1(x).
That does indicate how a cheaper alternative is important to golfers. In fact, it appears that Costco is set to bring back the Kirkland ball, but rumors have it being re-priced at $29.99 per dozen because according to Dean Snell of Snell Golf, any company would lose too much money until they start pricing balls at around at least $30 per dozen for a 'tour quality' golf ball.
And this is not a knock on the other ball makers like Titleist...if it's not feasible to make 'tour quality' balls at under $30 per dozen with no endorsements and advertising, just imagine what happens when you pay Tour players to endorse your product and then have to advertise. In essence, outside of the alternative companies like Costco, Snell Golf, Nicklaus Golf, etc., the high priced golf ball is here to stay and it will only increase as time goes by.
With the high priced golf ball here to stay (and it's not like $32 a dozen for alternative golf balls is cheap), that means more golfers are going to take more time to find that ball. And whether the USGA likes it or not, golfers are not going to stick to the old 5 minute rule to look for their ball and moving it to 3 minutes is a good try...but laughable.
And that's where the USGA needs to tackle the bigger problem....
We need better course designs. And since courses are rarely being constructed in the US these days...we need more courses re-designed.
Growing up in New York, I grew up playing a course designed by local designers that was built in 1957. Across town was a course built all the way back to 1897. Both of them were easy to play quickly because they were walkable. So if a course was easy to walk, just imagine how quickly you could play in a golf cart.
The two biggest influences on golf course design in the area were Donald Ross and Robert Trent Jones. Both had differing philosophies, but their courses were relatively easy to play quickly.
Ross wanted a golfer to hit every club in their bag at least once in a round. He offered a few tee shots that required something other than a driver. His greens were usually on the small side (very popular back then) and usually crowned a bit. RTJ's concept was 'go long or go home' with courses met to hold big crowds that rewarded the longer hitters, especially if they could get out of the rough. But generally were fair designs to all golfers and featured enormous greens that were flatter.
What they had in common that made the courses easy to play was smart use of bunkering and water. A lack of blind tee shots and tee boxes that were very close by to the previous green, making the walk to the next tee box very easy.
What has been lost on the USGA over the years is the major influence that Pete Dye has had on golf course designers. Often times, golf organizations only count the architects that directly learned under an architect like Pete Dye. What they miss out is that many courses are designed by locals who are greatly influenced by big name designers that they never met. Just like so many local courses I grew up playing in New York were designed by locals who were big fans of either Donald Ross or RTJ.
Dye's courses place a heavy emphasis on driving the ball well. They feature a lot of blind tee shots where there is often trouble on both sides and love for water and bunkers. Most of Dye's courses feature 'hit or miss' routing where he may make 6 excellent golf holes and then come up with 6 crummy/tricked up holes that were basically made due to him shoehorning those 6 excellent golf holes. This often means a long distance from one green to the next tee as well.
And the end results is golf balls go missing. It's more difficult to find your ball when you can't see it land due to a blind tee shot. And the Dye/RTJ philosophy is more of 'if you hit a bad shot, you will be punished, but you can still find and hit your golf ball.' Often times in the Dye philosophy it's more like 'if you hit a wayward shot, you're not likely to find your ball.'
The reality is that the Dye philosophy means more potentially lost balls and more golfers looking longer for their expensive golf ball.
You really can't change the price of golf balls by much, but the USGA can change the philosophy of golf course design and in turn encourage more current designs to be get renovated.
3JACK