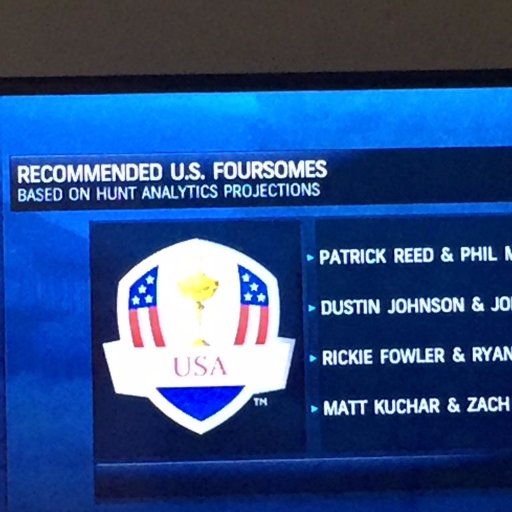 I apologize to all of the readers for having not updated you on my status as I haven't updated the blog since last August. Here's a bit of a rundown on my life.
1. I was laid-off from my job over the past 6 years back in June and was called back to work 2 weeks from the date I was let go. By then I had already looked for different jobs and found a new job that paid me substantially more in south Florida. So for 5 weeks I was feverishly looking for jobs and then moving to south Florida and getting acclimated with the area and quite frankly the entire process would make my head spin.
2. While working on 2016 Pro Golf Synopsis, I had the honor of providing statistical analysis on the Ryder Cup for The Golf Channel as well as doing statistical analytics for numerous Tour players, coaches and their caddies that took away time from being able to finish 2016 Pro Golf Synopsis.
3. My mother unexpectedly passed away after Thanksgiving. This has been a very trying time for myself and my family. I was very close to my mom and she bought me my first Bill James Historical Baseball Abstract when I was 10 years old as well as driving me to the golf course and me and my friends to numerous golf tournaments when I was a junior golfer. So as hard as it has been to lose my mother, the game of golf always reminds me of her. That put off 2016 Pro Golf Synopsis.
4. I then quit my job down in South Florida and relocated back to the central Florida area with a new job which again...took time away from finishing 2016 Pro Golf Synopsis.
Status on 2016 Pro Golf Synopsis - I hope to finish it by the end of February. It will be an abbreviated version with all of the normal information and the player-by-player analysis. However, I will only have 2 essays instead of the normal 3 or 4 essays. I suspect the book will still be about 300+ pages long. Due to the delay and 'less' information, I will be offering the book at the reduce price of $7.50.
Status on the Blog - I plan on getting the blog going starting tomorrow. I will likely update it every Monday thru Thursday. I will try to update on Friday, but there has been a downward trend in the amount of new content on the internet these days.
I plan on making the blog more of a video blog (vlog) come Summer of this year. That will consist of putting content on my YouTube channel, Instagram and Periscope. I am also looking into a weekly golf podcast, but that will likely not start until 2018.
Status on my own game - Before I moved to south Florida in July, I was arguably playing the best golf of my life. I shot 65 on five different occasions from March to June (my lowest score ever is 64). And I was logging in a lot of sub-70 rounds on 7,000+ yard courses. I had gotten my club head speed up as high as 117 mph on Trackman and was averaging 114 mph.
When I moved to south Florida, the transition meant far less time to work on my game and I became very inconsistent and had to work out the kinks which took me a couple of months. I started to get my game back into decent shape in December, but a step below where it was back in June.
The past couple of weeks I have been working on a couple of new pieces and I like where it is headed. My results on 'good swings' are better than my previous 'good swings' which I think is critical when making changes to your swing. I now have to get more reps in to work out those 3-4 bad swings per round.
I hope to get some video of my swing here in the next couple of weeks and get a What's In The Bag post sometime this week.
I thank all of you for your following and those that have inquired about the status of the blog and all of the encouragement you have graciously given me. If you have any questions or comments, feel free to e-mail me at progolfsynopsis@yahoo.com
3JACK