I believe in January I will be sending 1 of my vintage sets of irons to The Iron Factory (www.theironfactory.com) to get re-chromed.
What I would like to do is just get the head re-chromed and then I can spine align the shafts and MOI match the clubs and then assemble them together. I feel The Iron Factory has very reasonable prices, but anytime I can save some money I have no issue doing it. Here's some of the key prices (http://www.theironfactory.com/price.html)
Re-Chrome (head only) $26
Re-Chrome & Re-Groove (head only) $34
With Shaft (add $6)
Lie and Loft ($6)
I'll actually have the lie and lofts bent here since I can get It done for $4 a club instead of $6 a club.
The Iron Factory has 2 different finishes to choose from.
Bright Chrome
Satin Finish
In general, I prefer the satin finish. Although I think a good general rule of thumb with these clubs is that the more artwork and different paintfill colors, I think it looks better in bright chrome. Less artwork and paintfill colors look better in the satin finish.
MIZUNO PRO TN-87
The Mizuno Pro-TN 87 is a very popular set of irons with diehard club collectors. It was designed for Tommy Nakijima's use in 1987 (hence, TN-87). They are rumored to be designed with the 1982 Ben Hogan Personal irons in mind.
Having owned the Hogan Personal irons, the TN-87's have a much more compact looking head. They are known for their legendary soft feel. They myth is that they are soft because it has a 'copper underlay' beneath the chrome. But according to Tom Wishon, most vintage clubs utilized that copper underlay beneath the chrome and eventually OEM's figured that they could save money and accomplish the same thing with a nickel underlay. I agree with Wishon. However, they are a great feeling club due to what I believe is an excellent design.
They currently have Project X 5.5 shafts and the lengths are standard, the lies angles feel a bit upright and one of the lofts we measured (PW) was extremely strong. I think they would look good in either the bright chrome or satin finish, but I would lean towards putting them in bright-chrome.
PROS
: Great set of irons that are ready for play. They can also be used in Florida since they do have modern bounce angles. They are not too heavy, so adding a modern shaft should not weigh too much. I think the grooves are still in tact. I could probably re-sell the Project X shafts on eBay.
CONS
: Sort of a weird market for these clubs since they are popular with 'club ho's', but are still not that well known.
Estimated Cost
: $470
1967 HOGAN PERCUSSION 5
I believe these were the 2nd set of irons built by Hogan Company with the Percussion Center concept. They are very typical Hogan designed irons with the 'blade on blade' design, the sharp leading edge and no bounce angles on the irons. I also love their simple look.
These have a pretty lukewarm reaction to most Hogan fans. They were made from 1020 carbon steel and feel fantastic. They have a square toe and zero offset.
I actually like the original idea of chroming part of the iron and 'frosting' the muscleback. But, I don't think I can have that done here. I think that they would still look good in a Satin Finish.
PROS
: Great feeling and great looking iron. About as sharp of a looking iron as it gets, IMO. Performance is excellent with modern shafts.
CONS
: No bounce angle and sharp leading edge is difficult on Florida Bermuda grass. I have a 5-iron with a KBS shaft in it and it's very heavy (D-6 swingweight). Not a big time collector's set.
Estimated Cost
: $575
1970 HOGAN BOUNCE SOLE 1+
There were one of the first irons designed by Hogan with a bounce. I think we have to remember that Hogan grew up playing on Texas hardpan, so bounce wasn't really necessary for him.
These current irons have Hogan Apex 3 shafts which are too light and too whippy for me. They look a bit like the 1967 Hogan Percussions, even with a sharper leading edge and no offset. They are more popular with collectors as well. Judging by what the Iron Factory has done in the past, I believe these would look best in the Bright Chrome.
PROS
: Quality set of clubs. Perform better in Florida conditions given the bounce angles.
CONS
: In rough shape, but not impossibly rough shape. Probably an 'upper tier' set of irons for collectors, but not the very elite.
Estimated Cost
: $575
1983 HOGAN APEX PC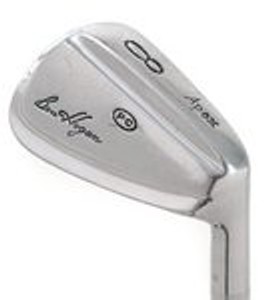 The Apex PC irons were a precursor to the famous Hogan Apex Redline irons. The main difference I see is that the Apex PC's had a slightly smaller head and actually look much more like modern irons. Hogan irons have always had this weird thing where the 8-iron, 9-iron and Equalizer are very round in shape and look completely different from the rest of the iron sets. But the Apex PC 8-iron thru PW do not have that round shape to them and look 'normal.'
My current set has True Temper Dynamic Gold S300 shafts in them and I really don't want those shafts. I think this set is the typical set that looks better in a satin finish.
PROS
: Great set of clubs that are ready for play.
CONS
: Not a big set for collectors since there are plenty of sets out there on eBay.
ESTIMATED PRICE
: $500
3JACK