I was introduced to Pure Grips late last year because of their 'innovative' tapeless and solvent-less grip installation.
This piqued my interest because I no longer had access to a garage, so I couldn't install my own grips anymore without the fear of making a mess. When I lived in Atlanta, there was a few PGA Tour Superstores in town and they would charge only $1 per grip for labor. But now living in Orlando, golf shops can charge up to $5 a grip. So let's say I get a 13 grips installed, that would be roughly a $50 difference. Thus, with the tapeless and solvent-less installation, I could change the grips myself as long as I had some way to use install a clamp on vise.
I then tried the grips out at the Demo Day at the PGA Merchandise Show and I liked what they felt like as well. I had some thoughts that because it was tapeless installation, the quality of the grip would suffer. But, I was wrong as they felt really good.
According to Pure Grips, they have a proprietary rubber formulation and injection mold process that creates a 'pure rubber' grip that helps with the quality control, life and durability of the grip. And to top it off, they back it up with a 12 month guarantee.
Our proprietary 100% rubber formula makes PURE Grips exceedingly durable in all weather conditions. Even the most avid golfers will have trouble wearing out our grips. In fact, all PURE Grips are guaranteed to remain tacky and supple and perform in all conditions for up to twelve months. If you manage to wear one out before then, we'll happily give you a replacement for free
.
Again, my interest was piqued.
And the installation looked easy as well.
However, I later found out that tapeless and solvent-less grip installation has been going on for years. In fact, Pure Grips does mention that you can use this installation process
Q. Can you install other brands of grips with your Installation tools?

A. Yes. Our gun and attachment will work for any grip with a standard sized hole in the butt end. We have tested lots of brands of grips for their ability to work without tape and solvent. The vast majority will work, but some grips with very low rubber content might be at risk for twisting.
But, that did not deter me.
For starters, I still wanted a way I could install grips myself without having to deal with solvent (I also don't like tape, but solvent was the main issue for me). Furthermore, it's tough to be a 12 month guarantee that the grips will remain tacky. And if I wind up not liking the Pure Grips, I can just take the gun, that they provide with their grip kits, and install other grips.
AIR COMPRESSOR
The main piece of equipment that you will need is an air compressor. I actually have one for my car, but it's powered thru a 12 volt plug, meaning that it would have to be hooked up to my car to power on. These cost about $20 and you can find them at Target or ACE Hardward.
I was actually going to do it that way, but the garage I was going to use was no longer available to me. Plus, my main goal was to be able to do these on my kitchen counter. So I went out and purchased a 1.5 gallon Husky Air Compressor which has a power cord. I got this at Home Depot on sale for $99.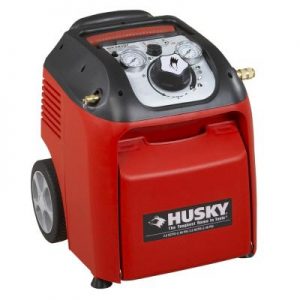 I actually had about $80 worth of gift cards at Home Depot, but I still feel this was worth the investment because I would probably make my money back off the labor it would cost the second time I decided to re-grip the entire set of clubs. Also, I can use this for inflating my bike tires, car tires and use it for tools that require an air compressor.
I would pay VERY CLOSE ATTENTION TO THE DIRECTIONS. You only need about 60 psi to install the grips. But if you don't read the directions, you could do some serious harm to yourself.
I found the air compressor to be pretty simple to work. What will happen when you turn it on, the motor will run until the tank pressure builds up where it needs to be. Then when the motor goes off, you then turn the air compressor part on until it reaches 60 PSI. As you're doing this, the motor will probably start up again to maintain the tank pressure. And it may go off again.
INSTALLATION PROCESS
So, was it as easy to install as they claim it is?
The answer is yes. The link here has a great video on how to install the grips and some troubleshooting.
http://vimeo.com/12407977
My first grip was a bit of a tough installation. But once I got it down, I caught on to the rest. I found you need to remember a few things:
1. Keep the gun and the grip level.
2. Only about 1 second bursts, don't hold down the air gun trigger for the entire time.
3. You don't want the air to come out of the bottom part of the grip
4. Left hand guides, right arm pushes
Like I mentioned before, I don't like tape under my grips that much. The part that takes the most time is getting the old grips off and the old tape off. Pure Grips recommends that you DO NOT USE THE GUN TO TAKE THE OLD GRIPS OFF. One can do it, but it risks the grip 'exploding' and that could cause bodily harm.
But, it was VERY EASY to install the grips. Most of the installs took less than 15 seconds for me. The only ones I had trouble with were with my 3-wood, 3-hyrid and a couple of clubs that were still sticky from a grip that was installed not too long ago.
One can keep the tape on there if they want to 'build up' the grip. I've seen people install them with the tape on, although I think it's probably a tad more difficult.
Put it this way, if all I had to do was install the grips, a set of 13 would probably take me about 5 minutes to do with no mess, no hoping it's aligned to my liking and even better…no wait. Yes, once you install the grips, you can use them right away. I tried to see if the grip would twist right after the install and they did not. They are good to go once they are installed.
CONCLUSION
Pure Grips has come up with a brilliant idea of marketing 'tapeless installation.' Even though it has been around for awhile now, their willingness to introduce it to the golfing public gives them a niche over their competitors.
The big question now is just how well the Pure Grips perform. But again, with a 12 month guarantee, it's hard to not have these grips pique your interest. Typically, these grips go for about $7.49 a piece. The 'installation gun' goes for about $35. However, I got these from Rock Bottom Golf for only $50. Yes, 13 grips AND the installation gun for only $50 (supplies are probably limited). Pure Grips Web site also has these available for $99. which is still an excellent deal.
I found the installation process as easy as they claimed it to be and I do like the initial feel of the grips. I would highly recommend trying them out because at the very least, I do not see what the regular golfer has to lose with them.
3JACK