Like I mentioned in my PGA Merchandise Show journal, I purchased an Edel putter and should be receiving it hopfully later this February or early March. Here's a promotional video for Edel putters going over the process of their fitting as well.
One of the things that has intrigued me and bothered me at the same time was the Slate.com articles on 'MoneyGolf.' Here's an excerpt about how the stat that matters the most on the PGA Tour is the long game.
If you've been reading Moneygolf this week, you're all too aware of the importance of the long game. If you aggregate all shots taken from more than 100 yards from the green, the pros gain 16 shots per round on mid-handicap golfers. They gain 24 shots on the true duffers—those of us (cough) who have trouble breaking 100. Even the scratch-golfing club ace surrenders 9 strokes to the pros in the long game.
So why is putting important?
Well, from talking to Edel, Mark Sweeney and reading stuff from Geoff Mangum I've come up with some theories.
1. I think the putting skill between amateurs typically has a large discrepancy. I think a scratch golfer probably tends to putt much, much better than just a 5 handicapper. And probably worlds better than your average 10 handicapper who probably putts much worse than the 5 handicapper. So being able to improve your putting if you're an amateur will likely directly correlate to making a sizeable improvement to your handicap.
2. The discrepancy in putting between pros is not all that great on average. I think a lot of this has to do with not only the skill level being pretty similar, but outside forces like the caddies understanding the greens and the cups, there usually isn't a surprise there.
3. The typical PGA Tour player has to putt well to win a tournament, but not necessarily lights out. If a PGA Tour player strikes the ball mediocre, their chances of winning are slim because if you're constantly leaving yourself with 40 foot birdie putts, your chances of making birdies and not 3-putting are very slim.
4. The main crux of putting for the PGA Tour player is that the guys considered to be the best putters are more or less still streaky putters.
Why?
Ballstriking and ballstriking placement plays a big part
.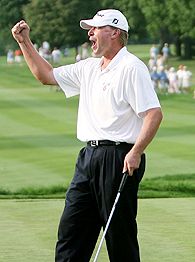 In 2009, Steve Stricker surprised people in the MoneyGolf statistic called 'Putts Gained' by finishing 69th. That's actually still well above average (they measured 166 golfers).
The 'Putts Gained' statistic figures out how a golfer putts against the average of the field. So it's like saying that if you gave everybody the same 100 different putts, in '09 Stricker would've had the 69th amount of putts (Luke Donald finished 1st that year).
Still, Stricker is often considered a top 5 putter on Tour. But the reason why he finished 60th was:
Mr. Stricker, who finished No. 1 in putting average last year largely because of his proficiency with approach shots, ranked a surprising 69th in putts gained per round. (Deeper analysis by MIT showed that Mr. Stricker's ranking was also negatively affected because he happened to play on the "easiest" greens of all 166 players sampled
But it's not only how close you are hitting it to the cup, but where you are locating it as well. As David Orr's 'spider studies' have shown, the putt made most by golfers of all levels is the uphill right to left putt. So if somebody like Gary Woodland hits the ball a little better than normal and just happens to leave himself with uphill right to left putts that day, the typical putting stats will maybe show Woodland 'on fire' with his putting, but the reality is that his ballstriking left him with better opportunities to make putts.
Green Types Make a Difference
One thing I've learned is that some golfers not only putt better or worse on different types of grass, but also different types of green designs.
Some golfers eat up flat greens, some eat up hilly greens. But *nobody* on the PGA Tour putts well everywhere.
And to me, that's why putting is still important. If a Tour player can not only putt a little better, but more consistently better, even if it's just slightly, they have gained a noticeable advantage over the rest of the field which is filled with guys who are, at best, streaky putters.
From what I've gathered from these teachers, the big problem with working with PGA Tour players is that even if the instructor is dead right and the Tour player is dead wrong, the Tour player reasons that their instincts are right because they solely used those instincts to achieve their previous success.
For instance, if a Tour player truly believes a putt will break 8 inches left and no matter how many different ways one can scientifically prove that putt will NEVER go in if they play for 8 inches of break...the Tour player will reason that their instincts are right because that's what they used to achieve their prior wins and other successes.
And it doesn't matter if we're talking about green reading, stroke mechanics, how the brain works, putter fitting, etc....if a PGA Tour player doesn't buy into something, they'll go back to their instincts and always defend those instincts.
From what I gather from these teachers, this is why they often prefer working with amateurs over Tour pros because the amateur is usually more willing to do anything they say. The problem is that they don't have the skill to quite execute it all of the time.
With that, I believe a Tour pro who fully trusts these facets of instruction....green reading, putter fitting, putting mechanics, and touch/speed control....they would be on the path to gain an incredible advantage over the rest of the tour and instead of being a great putter who is streaky, they'll be a great putter who can putt anywhere.
So check these guys out at:
David Edel - www.edelgolf.com
Geoff Mangum - www.puttingzone.com
David Orr - www.orrgolf.com
Mark Sweeney - www.aimpointgolf.com
3JACK